Akron
rocked something fierce this year. For the third year in a row, the weather was perfect, the streets were lined with cheerleaders and I crossed the finish with a PR.
Talk of the bad weather loomed like scary clouds all week. Cold temps, hard winds, driving rain. We were supposed to get something nasty on Saturday, and I showed up at the start prepared with shorts, a singlet and my trusty Red Sox hat. Unfortunately, I also showed up with a serious need for a bathroom stop.
Yeah, yeah, yeah… I have a history with bathroom starts and Akron. But this year I had an excuse! Long story short: Neil joined the ranks of awesomites running at Akron this year, kicking off "Crazy for Swayze" in the marathon relay. When we saw bathroom lines were too long, he split to hang with
Pacer E
at the start… and I tried finding a line. Until I realized Neil hadn't picked up his relay bracelet, that is. I ditched the line with five minutes to go, picked up a bracelet, spied E's 3:40 sign, and found Neil with a bracelet already in hand. Nuts!
At least I found Landon at the start. Too bad for him, all I could talk about was needing a bathroom. Thankfully for the race and my blog post, the bladder saga didn't last too long.
We took off into Akron at 7 a.m. sharp, and I had my Strategy A in place: stay within eyeshot of the 3:20 pacer (7:38/mile), aiming for 7:47 splits over 13.1 miles. Imagine my consternation when I hit mile 1 at 7:11 (not another speedster pacer at the start)!
Well, I learned from the
Cleveland
debacle and slowed down. Landon had taken off with the fast guys and my bladder was weighing my down. I fought my sinking spirits hard… until I heard the next pace group nipping at my heels! How frustrating to think the 3:30 group (8:01/mile) was catching up already.
I almost felt like taking the race easy until the pacer passed. With his 3:20 sign. I didn't show up at the start with glasses or contacts, so I didn't notice I was tracking the 3:10 pacer through the first mile. Switching off my negative thoughts, I found a bathroom (lost about 2:00 and the pace group) and then found my rhythm as I ran the most steady, metered and evenly paced race in my three years.
Well, steady for Akron, at least.
It was going to be rough hitting my A Goal (1:42:30) with the bathroom break, but I was going to give Akron and its hills a run for its money. I was surprised, though, by the magnitude of Akron's hills—despite two previous appearances, I seemed to have deleted all memory of the race route and its complete absence of flats—as I embraced the challenge.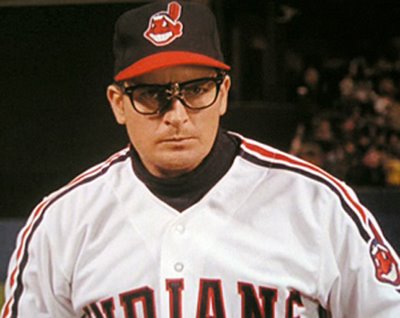 For all Akron's elevation, it has plenty of supporters cheering you up those damned hills. I lucked out in my race position too: I kept pace with a guy running in full costume as good ol' Rick Vaughn from
Major League
! Every crowd we passed erupted in cheers for the guy and he totally kept me on pace, and it was a major bummer when we parted ways at the marathon split.
The rest of the trek was delightfully uneventful. While I had a few momentary cramps and energy slumps, I just ran a very comfortable pace and absorbed the atmosphere. It was way rad to see Landon's lady Laura race-side handing out high-fives. Her spirits came in quite handy after heart-attack hill… but that's for mile 12.
We only had a few cool sprinkles throughout the race, so I was burning up under that baseball cap. I thanked my good graces, then, when I caught site of Kate, cheering on the U. Akron campus, and threw all my spare stuff her way. What a savior! (Thank you, Kate!) Rick Vaughn thanked me for ditching the Boston hat, and as I crossed mile 10 at a PR 1:19:30, I assured him it was from my Johnny Damon halloween costume from a few years ago. It was the least I could do.
Although I should have done much more in the way of long, drawn-out hill-training this summer. All was dandy through 11 as we sped downhill just outside downtown Akron. I met Rob from ultrarunner.net and picked up as many seconds the hill offered. But then the marathon split, and it was confirmed: what goes down, must go up.
The half turned onto a part of the towpath where, I'm almost certain, bad people are taken to be tortured. We all went silent, huffing and puffing up heart-attack hill. The route was marked with "5% Grade" signs the whole way up (as if I needed to be reminded I was running uphill), but felt like a much bigger pain. So, I was surprised when I clocked an 8:38 mile-12 split because it felt like 30!
Now, I don't know Akron very well, but I could tell we were so close to the finish. I gave Laura one last sweaty, happy-to-be-almost-done high-five on my way into downtown and just tried to stay even… while totally emptying the tank!
No one passed me in the last mile, and I was happy to see Neil cheering at the stadium entrance as I barreled down the final street. Akron's stadium finish can't be beat, even when the final stretch (cloth-covered grass outfield this year) catches you by surprise the first few steps and makes that final sprint pokier than you'd hoped.
But even as my feet sunk and slipped, I watched the clock and knew that even if I somersaulted to the finish, I'd get a huge PR!
I finished in 1:44:32 (7:58/mile), a 9:06 PR!
Neil led off his relay with a 3.5-mile leg in 29:13. The awesome fivesome ran 26.2 in 4:02:49. Congrats to Neil, Glen, Steven, Melina and Christine! (Neil's finisher medal is hanging on our fireplace just below his Fantasy Football trophy.) And high-fives all around to Landon, E, Salty, CJV, Janet and everyone who made it to the races, including cheerleaders Nino, Jessica, Laura and Kate.
Akron Half capped a pretty sweet summer for running. Not only did I finally make it to a major race injury-free, I had won my first race at the
Holy Cross 5K with a 22:26 PR
two weeks earlier. I'm so proud of Neil venturing into the world of running and being so fast… so fast!
And these races have me on pace to wear a Boston hat for good reason when I hit the Pittsburgh marathon this spring.