Word to the need-to-be-wise: don't check
weather.com
before you head outside for an after-work run.
I tiptoed out of work a tad early today so I could squeeze in some miles before month's end (I have class at lunch and couldn't manage to run outside this morning amidst the ice and all eight degrees). Thanks to a weatherbug on
Yahoo!
, I saw that it was below 20 degrees outside (and "felt like" 7), and I nearly stayed inside with a box of cookies.
Looking at the calendar, however, I knew I had to get hacking away at my remaining 11 miles. I only have until Thursday!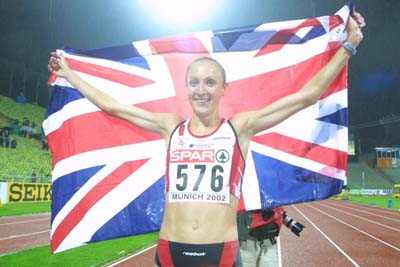 If you have been with me through the first and second sets of 30 miles this month, you may have noticed how much greater my motivation was when I had a piece of chocolate cake swinging at the finish line. I'll have to arrange something with my friends and a bakery for my first race!
Once I made it into my winter-running clothes (they're improving;
Nike
and
Nordstrom
have some great things on sale right now, like running tights and other clothes that are breathable and warm) and pushed myself out the door, I had convinced myself that I would run an easy two miles and come back inside.
It took a while for my fingers to warm up, and then I couldn't feel my toes; my nose froze enough that you could have done that "I've got your nose" trick, and I may have believed you. But once I broke 1.5 miles, I promised myself I would go three, and then four... but I just kept going until I ran
5.08 miles.
And then
Paula Radcliffe
said, "Congratulations, you've just finished your longest run!" She wasn't lying... in my Nike+ iPod world, that is. In the past, I have broken down my longer runs into shorter distances, especially when outside. But I've built up greater outdoor endurance (and greater fondness for running outside) this month, and I hope this progress continues through thick layers of winter clothes and thin.
I'm glad I pushed through my laziness and ran the extra couple of miles this evening. Even though I was suffering from post-work malaise, I pushed through the fog and kicked it into that for-emergency-use-only gear.
It also helped that I had a cherry pie Larabar before I headed out: if you haven't had one,
Larabar
isn't a power bar; it's a freakin' good bar. The cherry pie variety is made with dates, almonds, unsweetened cherries and what tastes like a pinch of love. I may not be ready to name my firstborn Lara, but it isn't off the table. Check out the
Larabar Web site
and try to get your hands on some samples. It's natural, pure-yum, good-food energy. If I order a box, I'll share the wealth.
That leaves 6 miles to complete by 11:59 p.m. on Wednesday night. Thankfully my procrastinating ways have eased up since I've grown up. So, I'll probably finish around 7 p.m.! Off to yoga.